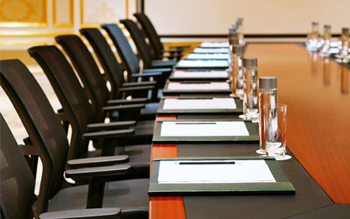 PCF Sponsored Meetings
The Pharmaceutical Compliance Forum (PCF) is a not-for-profit membership organization for Compliance and Legal professionals from pharmaceutical and biotechnology manufacturers. The mission of the organization is to promote effective compliance programs through education, networking, and sharing best practices. The members meet twice a year, for two days, focusing on open and informal sharing of compliance information, best practices, and current developments in the field, and sponsors a three-day compliance congress each Fall.

Non-members are invited by the PCF Co-Chairs* to join their peers and colleagues at the PCF Meetings to experience first-hand the benefits of membership. If a company should then decide to join PCF, a portion of the meeting registration fee paid will be applied towards initial membership dues. Non-members who are interested in this opportunity may contact info@pharmacomplianceforum.org.


2019 Annual Meeting
February 25-27, 2019
Intercontinental Hotel, NYC
Annual Meeting Agenda
- February 26-27 (PDF)
Additional meeting information regarding CCB Certificate and Presentations can be viewed on the Members site (login required)
For more information please contact us at info@pharmacomplianceforum.org.
SAVE THE DATE!
20th Annual Pharmaceutical & Medical Device Compliance Congress
November 6-8, 2019
Mandarin Oriental
Washington, D.C.
PCF Past Meetings:
PCF 2018 Fall Meetings:

- West: September 13, 2018
Host: Amgen, Thousand Oaks, CA

- East: October 3, 2018
Host: Janssen, Titusville, NJ

View Meeting information and presentations (Members Only)
Members must first be logged in to access this information.
Additional information for all past PCF Spring and Fall Meetings, including presentations, are available only for PCF Members.
All this and much more is a PCF membership benefit. Not a member yet? Join Now!